Want to up your vaping game in 2023? Look no further than the IGET Legend Vape and the IGET Goat Vape. These two disposable vapes are causing quite a stir among Australian enthusiasts, but which one is superior? We pitted these devices head to head for supremacy. Get ready to witness an epic showdown between two heavyweights as we explore their features, performance and much more. So sit back, relax and join us on our journey as we dissect the IGET Legend VS IGET Goat vape – the ultimate showdown!
The IGET Legend Vape is a powerful and well-built vape that offers great value for money.
The 4000 Puffs will meet your dosage needs, and with 12ml of e-liquid working together, a full vapour will give you the best experience.
In terms of device materials, it is very premium; the IGET Legend is made using high-quality aluminium metal and an ergonomic mouthpiece, claimed to be the second generation of the IGET King, perfect for e-cigarette users who value simplicity and vapour quality. 
Flavour-wise, it's even better, with a whopping 25+ flavour options, so you'll find it hard to pick a flavour you like, or maybe you'd like more, so let's find out together!
Specifications
Nicotine level: 5.0% (50mg/ml)
Liquid capacity: 12ml
Size: 22*22*122
Battery: 1350 mAh
Puffs: 4000 puffs
The IGET Goat Vape is an electronic cigarette with airflow adjustment, making it easy to enjoy 5000 Puffs whether a beginner or an experienced user.
Here's a quick overview of the airflow adjustment function, located at the bottom of the device, which allows you to choose from three levels: smooth, middle, and strong. I'm sure you'll enjoy your 5000 Puffs to the fullest.
The Visible window is even more prominent, so you don't have to worry about dry burning or atomiser clogging due to lack of vapour; you can fix it.
Specifications
Nicotine level: 5.0% (50mg/ml)
Liquid capacity: 13ml
Battery: 1800 mAh
Puffs: 5000 puffs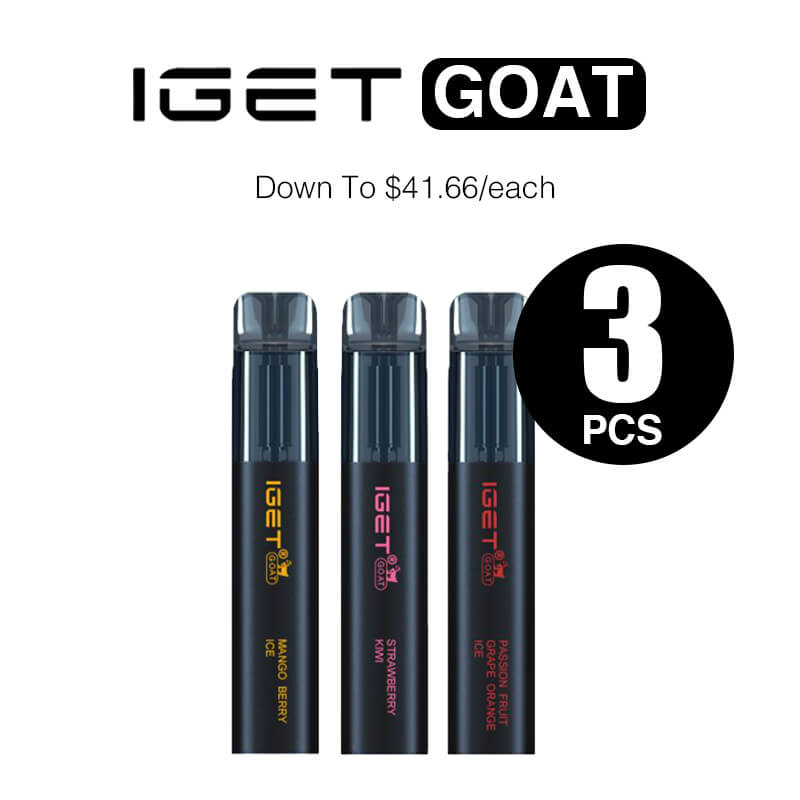 #1 Compare, Which IGET Vape Has More Puffs?
Firstly, the Legend is IGET's friendly alternative. It has a large capacity tank that can hold up to 12ml of e-liquid to deliver 4000 Puffs.
On the other hand, the Goat has the g function to regulate airflow. It has more features than the Legend but still offers great value for money. The Goat has a larger tank capacity than the Legend (1ml), and can deliver 5000 Puffs.
#2 Compare, Which IGET Vape Battery Lasts Longer?
When it comes to IGET Vape batteries, both Legend and Goat models are known for their durability. But which one lasts longer?
Both are known to be disposable, non-rechargeable e-cigarettes, the IGET Legend 4000 Puffs has a 1350mAh battery, and the IGET Goat 5000 Puffs has a 1800mAh battery; the IGET Goat will undoubtedly last longer, making the IGET Goat Vape more appealing to vapers who are worried about running out of battery power.
#3 Compare, Which IGET Vape One Has More Flavour?
Regarding flavour, both IGET Legend and IGET Goat vapes are very good. However, regarding the number of f flavours, Legendy has more options, offering 25+. But the IGET Goat only has 12+ flavour options, which makes the IGET Legend preferable for smokers who like to experience multiple flavours.
But in terms of airflow control, the Goat has more flavour. Because it uses a higher wattage than the Goat, meaning the coils are hotter and can vaporise e-liquid more effectively. The result is a more intense flavour, a real burst of flavour.
#4 Compare, Which IGET Vape Better Value For Money?
It's no secret that IGET makes some of the most popular bongs on the market, and there's a reason why the IGET Legend and IGET Goat are two of their most popular models. Let's start by looking at their price tags. The IGET Legend retails for $39, while the IGET Goat is priced at $44.50. So from the start, the IGET Goat offers better value for money.
For pure value for money, go for the cheaper but high-quality Legend. If you look at it for functionality, the IGET Goat has to be the one to try.
IGET Vape Near Me
In conclusion, both the IGET Legend Vape and the IGET Goat Vape are strong contenders in vape devices. The decision between them should come down to personal preference, as it is a matter of what you value most in a device. Technology constantly evolves and changes, so staying on top of new releases and updates are important to get the most out of your device.
Trust igetbar.com and the IGET brand to work closely together to give you the maximum benefit from our products, and if you want to know more, be sure to follow me as we have weekly events and c continuous updates on new products.