Hurry up and look at this disposable vape available in March 2023: IGET B5000! This upgraded vaping device offers a unique blend of flavours and the smoothness of nicotine to suit every taste.
In IGET Bar Australia, we explore the five best flavours of the IGET B5000, all derived from our rigorous market research. From classic favourites like strawberry and chocolate to tropical delights like pineapple and mango, IGET B5000 has something for everyone. The hottest flavours are coming to you! Are you ready?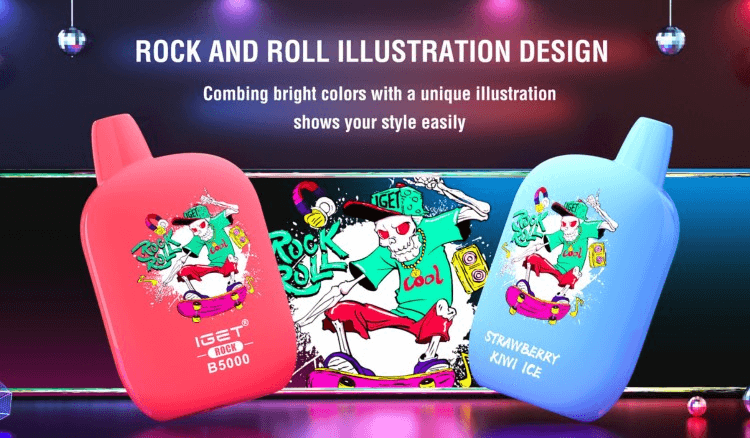 IGET B5000 Vape Overview
The IGET B5000 Vape is the first breakthrough in rechargeable design and upgraded atomisation technology, capable of both long-lasting use and rich flavours.
Equipped with a 550mAh internal rechargeable battery (Type-C), the IGET B5000 ensures long, uninterrupted use on a single charge. And all you need to do is operate it easily and enjoy it.
With its higher energy conversion efficiency, the B5000 achieves an all-around improvement in producing more powder puffs with lower battery power consumption. As a result, the IGET B5000 Vape allows for 5000 puffs, the second most vaped IGET Vape (the other being the IGET Hot 5500 Puffs), for a longer-lasting e-cigarette experience.
Another outstanding feature of this device is its compact design, making it easy to use and carry wherever you go. The sleek and stylish look also adds a touch of elegance to your vaping habit.
IGET B5000 Niocotine Content
IGET B5000 offers nicotine levels starting at 50mg. This nicotine level may be preferable for those looking for a stronger hit. For those who prefer a nicotine-free vape, we may recommend choosing the Nicotine Free Vape.
It is important to note that while vaping has the potential to help smokers move away from traditional cigarettes, it is still important to use these devices responsibly and only consume the nicotine you need.
The Best IGET B5000 Charge Time
The best charging time for the IGET B5000 is that it only takes about 30-60 minutes to charge fully. This means you can enjoy your vape without waiting long before you can use it again.
You need to know that the IGET B5000 charges quickly and efficiently and is reliable. This allows for uninterrupted vaping sessions, perfect for vapers who rely heavily on it throughout the day.
Strawberry kiwi ice, Sakura grape, Blueberry raspberry lemon, Double apple ice, Strawberry pitaya, Blueberry razz, Orange grapefruit lemon, Watermelon ice, Lychee blackcurrant, Passion fruit mango ice
5 Best IGET B5000 Flavours List
1. Sakura Grape
Sweetness: ⭐⭐
Coolness: ⭐⭐
Sakura Grape is a delightful flavour that combines the sweetness of grapes with the cherry blossom taste of sakura. This unique blend creates an unforgettable vaping experience that will leave you feeling refreshed and satisfied.
2. Strawberry Pitaya
Sweetness: ⭐⭐⭐
Coolness: ⭐⭐⭐
This flavour combines the sweet taste of strawberries with the exotic and tropical taste of pitaya. The result is a truly unique vaping experience that will delight your senses.
3. Lychee Blackcurrant
Sweetness: ⭐⭐⭐
Coolness: ⭐⭐⭐
Of all the amazing flavours of the IGET B5000, Lychee Blackcurrant stands out as a must-try option. The combination of sweet lychee and tart blackcurrant creates a unique flavour that will delight your taste buds.
4. Orange Grapefruit Lemon
Sweetness: ⭐⭐⭐
Coolness: ⭐⭐⭐
The orange in this flavour provides a sweet yet tart base, while the grapefruit adds a bitter kick. The lemon ties it all together with its signature acidity, creating an overall complex and satisfying flavour.
5. Blueberry Raspberry Lemon
Sweetness: ⭐⭐⭐
Coolness: ⭐⭐⭐
The sweetness of the blueberries blends perfectly with the tartness of the raspberries, while the lemon adds a zest to create a well-rounded flavour profile that will keep you coming back for more.
IGET B5000 Near Me
With its stylish design, long battery life and fast charging time, the IGET B5000 is perfect for on-the-go use. And with a wide range of flavours, there's something for everyone.
We hope this flavour guide has been put together for you by IGET Bar Vape Shop, a company we have worked with for over three years. We guarantee to sell genuine products and offer a free one-year after-sales guarantee. Start your 5000 puffs now!
👉 Hot To Recharge IGET Bar Vape?
👉 IGET Hot Review: 5 Flavours You Must Try