You were calling all vape enthusiasts! Are you looking for your next vaping device but unsure which one to choose? Look no further as we compare the two hottest contenders in IGET disposable vape – IGET Bar VS IGET Legend. Some differences between the two could affect your vaping experience—things like shape, puffs, vaping e-liquids, etc. So relax and let igetbar.com take an in-depth look at the full range of these two devices to help you decide which one is best for you.
The Differences between the Two IGET Vapes
| | | |
| --- | --- | --- |
| | IGET Bar Vape | IGET Legend Vape |
| Puffs | 3500 | 4000 |
| Nicotine | 5%/0% | 5% |
| Battery | 1500 mAh | 1350 mAh |
| E-liquid | 12ml | 12ml |
| Price | $29.5-34.5 | $39 |
IGET Bar VS IGET Legend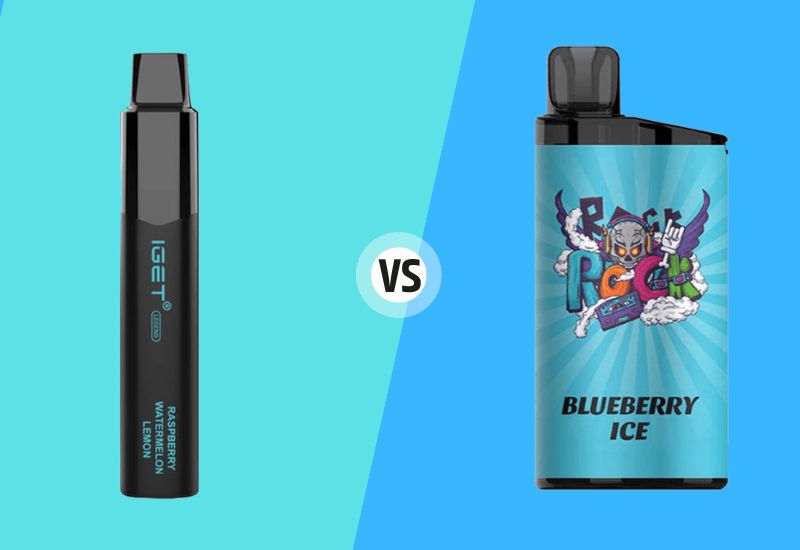 Which IGET Vape One is Right for You?
Once you have understood the differences, if you are still trying to understand the IGET Bar Vape and the IGET Legend Vape, we are here to help so that you can make the decision that best suits your needs.
Remember that IGET Bar 3500 Puffs are more suitable for smokers who like strong and long-lasting flavours in a sleek shape. This is because IGET Bar Vape is claimed to be the most flavourful disposable e-cigarette.
On the other hand, the IGET Legend 4000 Puffs is for the vaper who likes to keep things simple, with its semi-transparent pen design allows for a clear view of the e-liquid very convenient and easy to carry.
Most Australian vapers choose these two IGET products; you don't necessarily have to choose between them in one purchase; perhaps you could try them out first. The next two products will be described in detail, and this is something we have carefully prepared.
IGET Bar Vape Overview
The IGET Bar Vape is a premium device that delivers 3500 puffs of delicious flavour. Its sleek and stylish design is perfect for vapers who value aesthetics as much as functionality. The IGET Bar Vape is available in nicotine and non-nicotine options, allowing users to choose the nicotine level that best suits their needs. With over thirty unique flavour options, users can enjoy various delicious vaping experiences with the IGET Bar Vape.
Specifications
Nicotine level: 5.0% (50mg/ml) / 0%(0mg/ml)
Liquid capacity: 12ml
Size: 41.2*19.5*94.5 mm
Battery: 1500 mAh
Puffs: 3500 puffs
A variety of flavours
Strong fruity flavour
Satisfying throat hit
Portable design
Do IGET Bars have nicotine?
IGET Bar offers Nicotine and Nicotine-free options. Nicotine-free IGET BAR 3500 means that nicotine is not included, and there is no need to worry about the dangers of nicotine.
The Nicotine IGET Bar includes 5% (50mg/ml) nicotine, and you can enjoy the 3500 Puffs with nicotine to your heart's content.
How long does the IGET Vape Bar last?
When it comes to the lifespan of the IGET Bar 3500 Puffs, it depends on how often you use it. You can use it for around seven days if you are a heavy smoker. However, an IGET Vape Bar will last you two to three weeks if you are a light smoker.
How much does one IGET Bars cost?
Assuming you are talking about IGET Bar disposable vape pens, they usually cost between $40-$50. However, some retailers may sell them for higher or lower prices. As we have been working with the IGET brand for over three years and have a local warehouse to save costs and improve logistics, we can sell them for $34.50.
1. Blueberry Ice – A sweet and tart blueberry flavour that is perfect for an all-day vape.
2. Mango Ice – A juicy and exotic mango flavour that will tantalize your taste buds.
3. Strawberry Kiwi – A rich and creamy strawberry flavour that will please any dessert lover.
4. Strawberry Watermelon – A refreshing watermelon and berry flavour for summertime vaping.
5. Blueberry Raspberry Ice – A decadent berry flavour with a sweet cherry finish.
IGET Legend Vape Overview
The IGET Legend Vape is a unique device with an impressive 4000 Puff capacity. The device's transparent exterior lets users view their e-liquid levels easily, ensuring they never accidentally run out. Its compact and portable size makes it easy to carry around, making it the perfect choice for vapers on the go. In addition, the IGET Legend Vape is available in over twenty different flavour options, offering a wide range of choices to suit every user's taste. We are sure there is a flavour here to satisfy you.
SPECIFICATIONS
Puff: 4000 Puffs
Nicotine Strength: 50mg/ml (5%)
Battery: 1350mAh
Capacity: 12ml
No need to charge
Pre-filled, no need for messy refills
Visible e-liquid
Ergonomic mouthpiece
Does IGET Legend have nicotine?
Yes, IGET Legends contains nicotine. It has a nicotine strength of 5% (50mg/ml).
How long does IGET Legend last?
IGET Legends is a disposable vape that lasts for approximately 4000 puffs. This means that you can use it for around 12-20 days, depending on how often you use it.
How much does an IGET Legend cost?
IGET Legend 4000 Puffs cost $40-$60 on the market, but here we can offer them for $39 each, and they are guaranteed to be genuine so that you can buy with confidence.
1. Blueberry Raspberry Grape Ice: A sweet and sour mix of ice cubes that is very appealing.
2. Lush Ice: Ripe and juicy: Lush is the perfect choice for any fruit lover.
3. Peach Pineapple Lime: Who can resist a blend of ripe tropical fruits?
4. Passion Fruit Melon Ice: The sweetness of honeydew melon is the star of this flavour.
5. Pink Lemon Orange Ice: The sourness of the orange is the perfect pre-dinner tonic to open your mouth, followed by the acidity of the lemon.
IGET Vape Near Me
IGET Vape is the advantage of Australian growth, more quality than regular e-cigarettes and more choice of flavours for smoker to love. And at igetbar.com, an online shop dedicated to Australian vapers, we offer quality-assured IGET products.
You are guaranteed great prices, the latest products, and expedited logistics when you buy from our shop. Choose your IGET Disposable Vape now!
---